#1 in Professional development is self-leadership
The Next Entrepreneurial Leap
Digital Self-Leadership Program
Are you a high achieving entrepreneur? Then your mission, in personal development, is to build high-performance structures into your life. With these structures, you'll feel less stressed and more in control of your time. Consequently, you'll feel like you're living a life with significantly more purpose. In fact, with our Digital Self Leadership development program, you'll see the results in 21 days or less.

Primarily, with our Digital Self Leadership development program, The Next Entrepreneurial Leap, we'll show you that business doesn't have to take over your life. We'll help you clarify your core objectives, and show you how to use science-based productivity hacks to double your performance and professional development. With these self-leadership skills, you'll feel confident and more able to handle uncertainty because you have more control over your day. Consequently, your loved ones and friends won't believe you finally have time for them!
Click the link below to learn more about the Digital Experience Product

BE.ME. Daily Affirmation Package
Mindset Change Cards
It's simple to use positive affirmations for personal development, yet it's one of the small nuances that differentiates high performance leaders from the average crowd. Positive affirmations can help with motivation, they can encourage significantly positive changes in your life, and notably boost your self-esteem. The right affirmations can also help you eliminate negative thinking and to replace subconscious negative thought patterns, with a more adaptive narrative.
Set your mind up for winning with this hand picked-selection of the most powerful daily affirmations from my premium Be.Me. Program. You can incorporate them into your morning routine and make personal adaptations so they explicitly speak to your heart.
The Powerday Template
Worksheet
With these individual worksheets for professional development, you'll discover how healthy high performance executives and entrepreneurs structure their day so their body, mind and emotions are always at optimum function. You'll use a simple, yet powerful template based on the latest scientific findings of neuroscience, chronobiology, positive psychology and mindfulness to structure your day. Furthermore, with this self leadership tool, you'll have the best pieces inserted into your daily schedule without having to read all the whitepapers and research results. Thus, you'll only have the essentials you need to know, convenient and ready for use!

The NOWING® Formula
ebook
Through academic research and an international study, Michaela Lindinger designed the NOWING® Formula. Its purpose is to maximize performance and personal well-being in today's fast-moving digital economy with a focus on Millennial's needs. In a simple, fun, and practical manner, this book shows you what's relevant for you in digital transformation, along the 6 elements of the NOWING® Formula. Professional success in the digital age is yours – and it doesn't have to come at the cost of your personal goals and your well-being. It comes with NOWING®.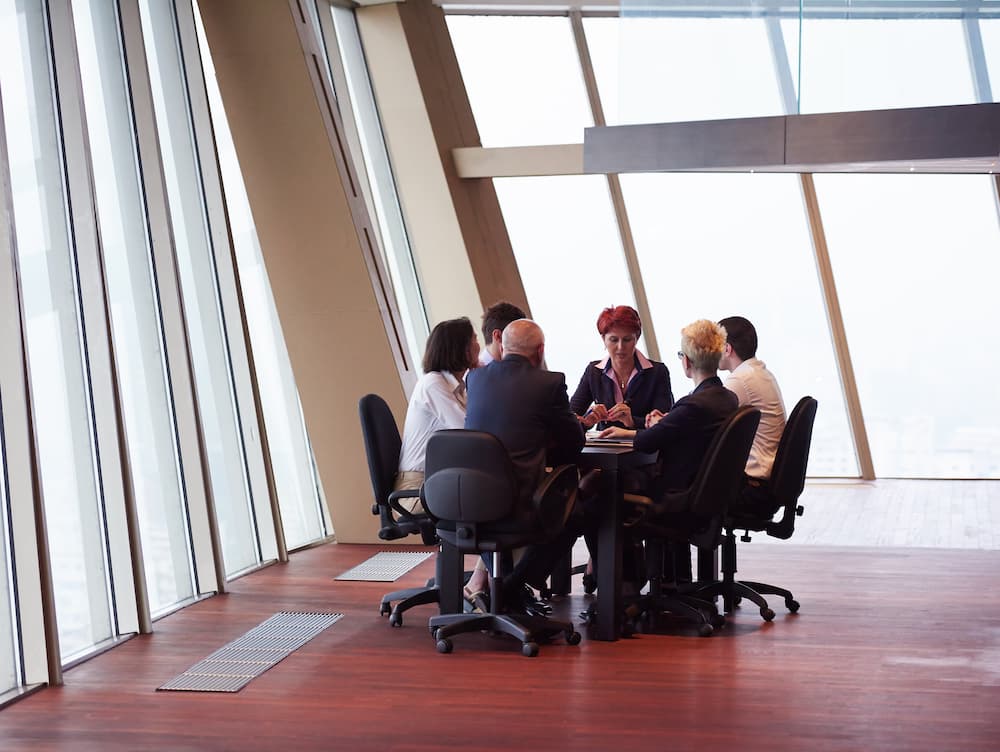 The Executive Mastermind
Leadership Program
Benjamin Franklin belonged to one, and in Silicon Valley, most successful entrepreneurs rely on mastermind groups! Mastermind groups are a combination of brainstorming, open question & answers and peer-co-creation. In a group, trust is strong between participants who provide insights and personal feedback as well as share explicit personal experiences. Furthermore, participants also challenge each other to set ambitious goals and encourage each other to achieve them. You'll have the support of a loyal community of like-minded individuals to openly discuss and reflect on current challenges. You can brainstorm or test new ideas and receive feedback and different perspectives without anyone having a "hidden agenda". Furthermore, you'll have a team of trusted peers who help you stay accountable for your goals regarding professional development. 
Currently, all batches are full, but we'll launch a new group soon. Sign up below so you'll be notified when registration opens.
Testimonials from past clients
I undertook several coaching sessions with Michaela, and they were transformative. She brings great clarity to the process of making decisions, and she was invaluable in helping me focus my business and personal goals. Michaela is a great listener with a gift for penetrating analysis, and her uncommon…
I was stuck in a corporate role that was paying good money, making me travel the world, being surrounded by awesome clients – but I was not living my purpose – didn't even know what it really was. Till I met Michaela and she helped me get focus and clarity and guided me towards launching my own dream business.
Not that I haven't worked with coaches before, but there is hardly ever someone as focused and present as Michaela when working with her. Plus her way of not teaching content but having you implement simple yet powerful things quickly – even in my busy schedule – and seeing results soon was awesome!
Every leader and entrepreneur is familiar with the saying "structure follows strategy" but legendary Peter Drucker is the author of one of my favourite quotes, because he added what makes the true difference with really good leadership: "…and culture eats strategy for...
read more