Executive Coaching for healthy high performance
Executive Sparring Partner
I am nudging you to high performance structures and habits
Michaela Lindinger is an executive sparring partner to C-level leaders, next generation decision makers, founders and entrepreneurs who want to maximize their healthy high performance with the right structures, habits and mindset.
Her approaches and programs are grounded in scientific research, built to fit a busy entrepreneurial lifestyle with concrete, actionable items and first results kicking in after session #1
The BE.ME. Program
Your most impactful, life-changing 90 days!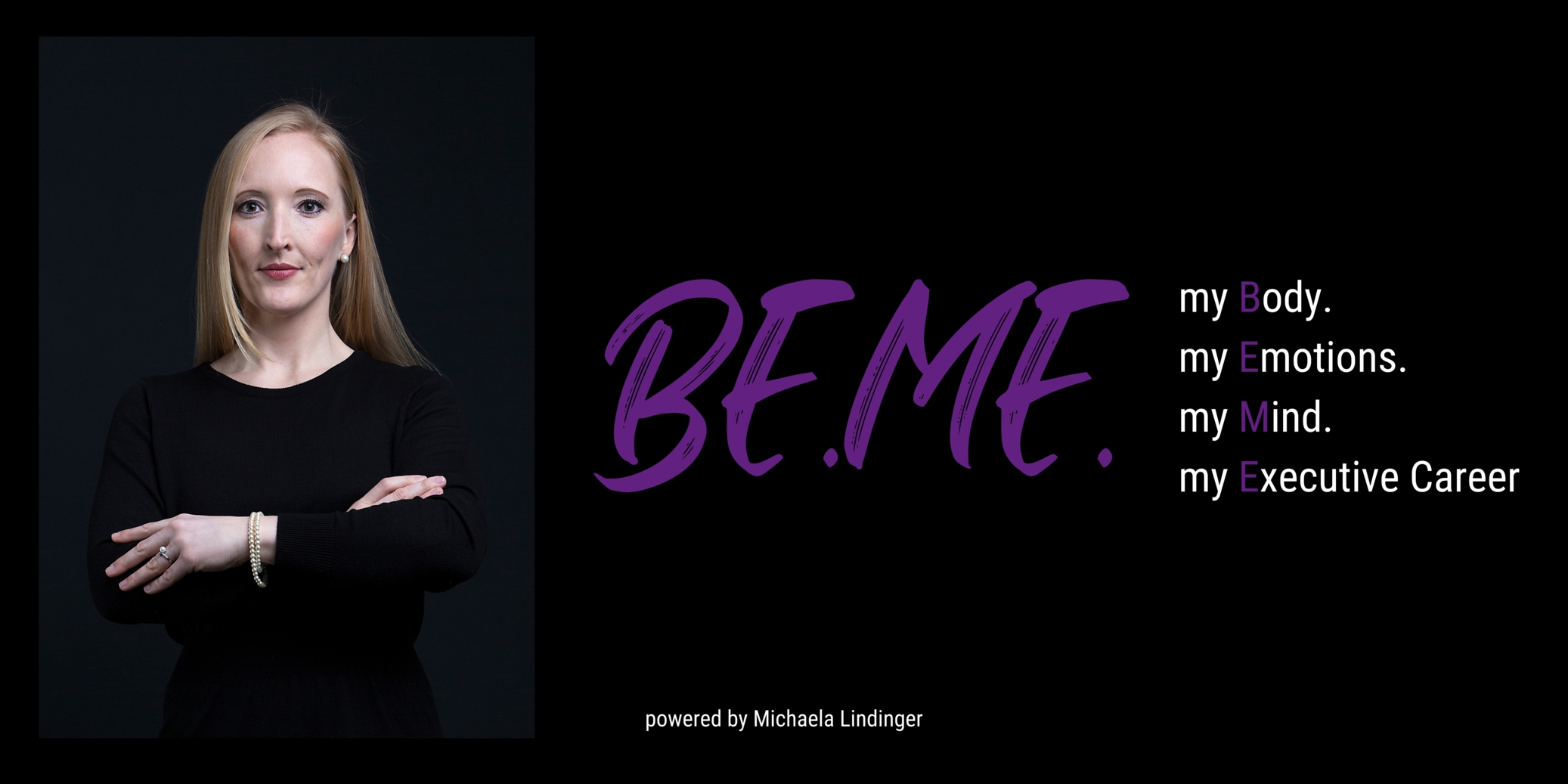 The Be.Me. Program is designed to help high power professionals and executives, who carry the weight of the world on their shoulders, to achieve an amazing 7-figure lifestyle by following the Be.Me. Core 4 – Body, Emotions, Mind and Executive career – without giving up passion, productivity and drive but enjoying balance and ease.
Have you ever felt stuck or unclear what's your priority and your WHY? 

Is your calendar defining what your stressful day looks like and have you lost control over your time?

Do you feel tired and overwhelmed because of so much flexibility and uncertainty?

Can you trust in your team and your social backbone to support you in winning your game?

Does it feel like it's time for making the change to leaving a legacy NOW?
The Be.Me program is a 1:1 coaching program over a period of 3 months. These transformational 90 days will set you up for success by following a proven and science-based system. We jointly build your personal high performance habits and structures around the following topics:

Vision & Clarity
discover your true purpose in life, what's the answer to your very personal Why-Question and how to create a vision that works perfectly for your brain to execute

Energy
create a simple plan of how to build the scientific findings from chronobiology, resilience, power foods and positive psychology into your daily schedule, so you are ready to perform!


Agility
understand the key skills and tools to use, so you stay in control no matter how uncertain or complex a situation may seem – you are ready to handle the agile way of working!


Productivity
become crystal clear about the priorities in your life, which topics and tasks come first, and how to make sure you are working on your big moves

 
Collaboration & Influence
find out the most promising style for leading in the digital age, how to build trust so you have an authentic power to influence others…


Environment 360°
shape your environment including space, people, habits and any other surroundings in a way that serves you and allows you to thrive!

You can look forward to your first breakthroughs after session #1 with some additional resources like worksheets making this personal transformation a joyful experience you will not want to miss. You deserve to go beyond the standard norm and to stop the daily struggle you are experiencing simply because it's YOU! Are you ready? Reach out to us and we will schedule a chemistry check call to answer all your questions and find out if we are a good fit
Executive Coaching
Get your personal Executive Coach to perform beyond the standard norm
We can help you make positive changes both personally and professionally that will bring you back on track:
Are you facing a very challenging situation at work or feel some sort of leadership crisis creeping in?
Do you feel your leadership-development has reached its limits and needs an update?
Is there conflict in your team and you are struggling how to solve it? Or maybe you feel like your teams are not aligned on their objectives, the bigger vision or daily operations at all?
You want to reflect on how you can be more of an authentic leader, helping your people to develop their strengths even better and how to present change in your organization as something people will embrace and not shy away from?
Do you feel like you are at your limits in terms of emails and meetings you can handle, without any time for you and your own health?
Or maybe you feel – like I did many times in my career – that there are just a lot of male role models and mentors around but as a woman you might prefer to have a female sparring partner who has experienced the corporate world but who also has a highly valued private life as a mom?
If any of these questions trigger a "YES" with you, sign up for our Executive & Founder Coaching Package that will bring you back on track the fastest way. It's eight 1:1 coaching sessions supported with some worksheets that will quickly bring you results
Testimonials from past clients
I undertook several coaching sessions with Michaela, and they were transformative. She brings great clarity to the process of making decisions, and she was invaluable in helping me focus my business and personal goals. Michaela is a great listener with a gift for penetrating analysis, and her uncommon…
I was stuck in a corporate role that was paying good money, making me travel the world, being surrounded by awesome clients – but I was not living my purpose – didn't even know what it really was. Till I met Michaela and she helped me get focus and clarity and guided me towards launching my own dream business.
Not that I haven't worked with coaches before, but there is hardly ever someone as focused and present as Michaela when working with her. Plus her way of not teaching content but having you implement simple yet powerful things quickly – even in my busy schedule – and seeing results soon was awesome!
As a leader, it's not uncommon to feel overwhelmed from time to time. After all, you're juggling a lot of different responsibilities and tasks. But don't worry - there is hope. By following these 10 professional executive coaching steps, you can get your bearings and...
read more